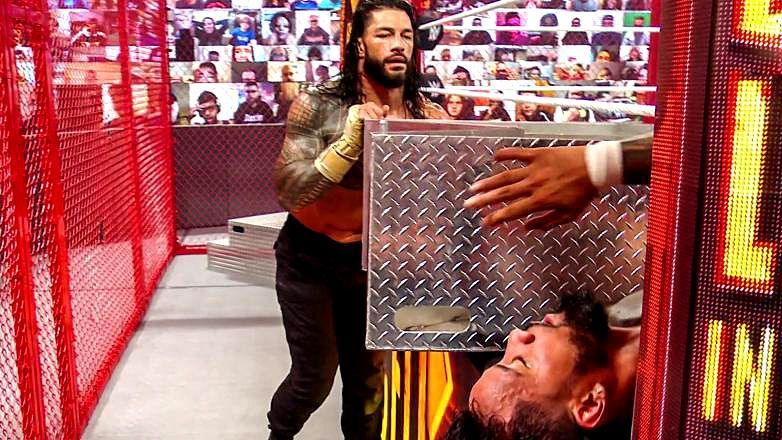 Hell in a Cell kicks off the home stretch of WWE's 2020 calendar, and the fallout from the three matches inside the giant red cage will likely shape the path WWE will take all the way to WrestleMania 37 in 2021. Will Drew McIntyre go an entire calendar year helping to carry the company as WWE champion? Or will Randy Orton finally win his 14th world title and have McIntyre and the whole Raw roster chasing him over the next few months?
While Roman Reigns is a prohibitive favorite heading into his Universal championship defense against Jey Uso, the big question is how far he'll take his destruction and aggression into the "I Quit" match. Uso has another opportunity to bolster his stock in what has become a breakout 2020.
Then there is the long-awaited clash between Bayley and Sasha Banks. Bayley, the longest-reigning SmackDown women's champion in history, has carried that title for over a year, most of which was spent with Banks by her side. Together, they were the most consistent and entertaining attraction of Raw and SmackDown's "Performance Center" era. Their shared history in the ring, including their revolutionary NXT TakeOver match in 2015, and willingness to put everything on the line in big matches, makes this an easy pick to steal the show.
Follow along throughout the night as Tim Fiorvanti breaks down the entire card, match-by-match.
---
Match in progress: Hell in a Cell match for the SmackDown women's championship: Bayley (c) vs. Sasha Banks
---
Results:
Hell in a Cell match for the Universal championship: Roman Reigns (c) def. Jey Uso
For 30 minutes, one question loomed over the Universal championship match between Roman Reigns and Jey Uso — how would Reigns force his prideful cousin to utter the words "I quit."
Uso did everything within his power to avoid uttering those two simple words together. They exchanged words, fists and kicks. There was a leather strap brought into play, and eventually the steel ring steps.
Reigns hit two spears early on in the match that incapacitated Uso but did little to shake his resolve. Uso hit multiple superkicks and top rope splashes in response, but that, too, did little to shift either man closer to uttering the words "I quit."
The setting of the Thunderdome allowed fans to hear every word Reigns exchanged with Uso, from Reigns pleading for Uso to just quit and spare them both the trouble, to Uso pleading with his cousin to see the light.
In all honesty, the match didn't need the Hell in a Cell stipulation. Aside from a few dives and Uso tossing Reigns into the cage once, the dialogue and the level of violence carried the match — and it was quite a match.
After trading whips from a leather strap, Uso utilized the strap to try to choke Reigns unconscious, and Reigns went in and out of consciousness several times. Then, when Uso hesitated to bring a steel chair into play, Reigns hit a superman punch and then locked in a standing guillotine with a body scissors that put all of his weight on Uso's neck.
"Quit, or I'm going to take this to the next level. Don't make me do this," Reigns pleaded.
A driveby kick on the apron was followed by a second driveby that drove the ring steps, which had been wedged under the bottom rope, into Uso's head and then the steel ring post.
The referee attempted to call off the match, but Reigns wouldn't go out without getting what he wanted out of Uso and this match. Even as officials spilled into the ring, Reigns would be satisfied with nothing short of an "I quit."
When Reigns lifted up the steel stairs and lined up Jey Uso's head underneath, Jimmy Uso ran out to save his twin and tag team partner, covering Jey's body. Jimmy pleaded for the violence to end, saying that they were cousins, and that they could fix things. Reigns broke down into tears as Jimmy pleaded, "Look at me, please. Whatever you're going through, you know we've got you. This ain't it."
"I don't even know who I am anymore. I'm sorry," Reigns replied. But the moment Jimmy reached out his arm, Reigns pulled Jimmy — recently sidelined by knee surgery — into a guillotine. Jey mustered all of the power he had to pull himself up, and then said, "I quit" to save his brother.
To rub salt in the wound, Reigns' father and uncle, Sika and Afa, joined Reigns at the top of the ramp and blessed Reigns by putting the chief's beads around his neck in celebration.
What's next: Per Paul Heyman's prematch stipulation, Jey Uso is now Reigns' "indentured servant" — more than a bit troubling given the history attached to that term. In any event, he must now follow Reigns' every order moving forward. Reigns has plenty of options for finding a challenger on SmackDown moving forward, but only time will tell.
---
The Miz def. Otis to win the Money in the Bank contract
This year has been a real rollercoaster for Otis. Everything seemed to be falling his way with his relationship with Mandy Rose, and the Money in the Bank briefcase fell from the sky and into his hands, which offered him the chance to challenge for a world title whenever he wanted.
But much like 2020 has crashed down on so many others, everything quickly fell apart. After Mandy Rose and Tucker, his Heavy Machinery tag team partner, were both drafted to Raw, a farcical "trial on SmackDown," presided over by JBL, forced Otis to put his Money in the Bank briefcase on the line against The Miz after months of conflict.
In the last match before the effects of the 2020 WWE Draft would effectively end this story, it appeared as if Otis would finally right the ship and get his chance to start rolling by himself. That was anything but the case. A solid, but standard match was blighted by multiple instances of John Morrison interfering on The Miz's behalf, and Tucker doing little to stop it.
Once Morrison was caught trying to use the Money in the Bank briefcase as a weapon and dismissed by the referee, it seemed as though it was all over. But then Tucker decided to insert himself in a way no one could have foreseen. He used the briefcase to strike down Otis, and with a stunned Miz claiming the pinfall, he was now the owner of a title shot at the time and place of his choosing.
What's next: This is a dramatic shift in power. It was unlikely Roman Reigns was going to lose the Universal championship any time soon, especially to Otis, but all of the momentum Otis was carrying is now gone. He's only the second person to lose the Money in the Bank briefcase without getting a chance to cash it in, and the first since Mr. Kennedy (who lost it in a match against Edge) in 2007. The Miz, meanwhile, picks up a much greater position in the pecking order with his new home on Monday Night Raw. Post match comments from Miz and Morrison backed that up: "This contract has a meaning and a purpose. This is not a prop… it's a golden opportunity."
As for Tucker, he may get into the ring one more time with Otis to go one-on-one after Otis chased him backstage. But with Tucker on Raw and Otis on SmackDown, that won't go on for long. Tucker was actually pretty impressive in his post-match comments, and separating himself from the playful Heavy Machinery persona could help.
---
Elias def. Jeff Hardy by DQ
After an intensely emotional match with family ties and prodigious violence, this fairly brief match between Jeff Hardy and Elias was more about advancing a story than what happened in the ring.
Much of the match was spent on even ground, but Hardy hit a Twist of Fate and had Elias lined up for the Swanton bomb. Elias slid to the apron, and then to the outside, forcing Hardy down. Elias reached for his trademark guitar, but a frustrated Hardy snatched it away and smashed Elias, triggering a DQ.
What's next: More to come from these two. Elias tried to pin the attack that put him out for months on Hardy, when it was a fairly clear setup by Sheamus, but Elias sacrificed himself to two ends — to earn himself a victory, and to prove Hardy's violent streak. For good measure post-match, Hardy stomped the guitar, clearly frustrated.
The #CharismaticEnigma brings the fight, but the POWER of @IAmEliasWWE takes center stage at WWE #HIAC!! @JEFFHARDYBRAND pic.twitter.com/HDkfWzeQCk

— WWE (@WWE) October 26, 2020
---
24/7 championship: R-Truth def. Drew Gulak
Drew Gulak had a brief opportunity to showcase his submission skills with a variety of different holds. But R-Truth, after channeling his "childhood hero" John Cena's offense for a stretch, rolled Gulak up for the pinfall and then absconded from the ring as the Lucha House Party and Akira Tozawa gave chase out of the arena.
What's next: R-Truth is a 42-time 24/7 champion, and he'll certainly keep that number growing by exchanging the title back and forth in all sorts of humorous settings and circumstances. Having the title change in a "real match" would seemingly defeat the purpose. Gulak will win the title again, but this match was pure filler.
VINTAGE J̶o̶h̶n̶ ̶C̶e̶n̶a̶ @RonKillings! #HIAC #247Championship pic.twitter.com/ZxjJnRbJMj

— WWE Universe (@WWEUniverse) October 25, 2020
---
Still to come:
Hell in a cell match for the WWE championship: Drew McIntyre (c) vs. Randy Orton
One member of Retribution vs. one member of the Hurt Business