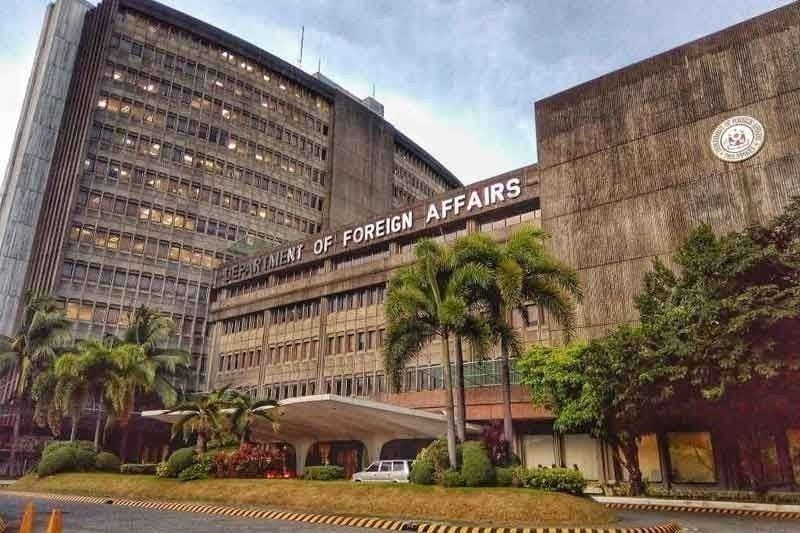 MANILA, Philippines — The Filipina housemaid captured on video being maltreated by the Philippine ambassador to Brazil has returned home to Cotabato, while Ambassador Marichu Mauro is expected to be back in the country on Nov. 2 to face investigation by the Department of Foreign Affairs (DFA).
Senate Majority Leader Juan Miguel Zubiri, who is also from Mindanao, said yesterday he had spoken to the overseas Filipino worker (OFW)'s daughter, who said her mother is willing to execute an affidavit to the DFA on the abuses she allegedly suffered at the hands of the ambassador.
"The daughter has spoken to us and told us that her mom is in better spirits now. She is happy that she is home safe and sound," Zubiri said.  
The senator also commended the DFA and Secretary Teodoro Locsin Jr. for quickly recalling the ambassador from Brazil; and President Duterte for giving the go-signal to place Mauro under investigation.
Yesterday, Locsin said the DFA's fact-finding team has started its investigation into the alleged maltreatment of the Filipino household helper and that the President had sent him a directive on the matter.
Locsin tweeted: "I received Presidential Directive No. 2020-196 directing the DFA to investigate the alleged abusive conduct of the Philippine Ambassador to Brazil. We have 15 days to report to the Presidential Management Staff. It starts NOW."
The fact-finding team is composed of Consul General to Sydney Ezzedin Tago, former ambassador to The Netherlands Jaime Ledda, Narciso Castañeda of the DFA's Bids and Awards Committee and lawyer Ihna Alyssa Marie Santos of the agency's Human Resource Management Office.
"If there's prima facie case, I issue a formal charge prepared by OTLA," said Locsin, referring to the DFA's Office of Treaties and Legal Affairs.
Mauro has been recalled by the DFA after a news outlet in Brazil showed CCTV footage of her berating and maltreating the 51-year-old Filipina at her residence.
Locsin said under Section 51 of Republic Act 7157, the Philippine Foreign Service Act of 1991, chiefs of mission commissioned by the President as ambassadors shall not be subjected to formal investigation without presidential approval.
The panel will submit a report to the Board of Foreign Service Administration, which will provide its recommendation to Locsin. A final recommendation from Locsin will be submitted to the President.
Locsin also said on Twitter that he provided cash assistance to the household helper, who was earlier reported to have left Brazil on Oct. 21 and is back in the Philippines.
"Just sent her P200,000 to tide her over. She doesn't have to do or say anything for it. It's hers for being what she is: an OFW. Plus it's her tax money," Locsin said. 
Earlier, the secretary said he is helping the Filipino worker "without any conditions."
"I am reaching out to her with financial help right now as an OFW, without any conditions because we are DFA not animals. We help the helpless period, no exchange, helping is its own exchange. It is our job to help," he said. 
Zubiri confirmed that financial and legal assistance has been extended to the family of the Filipina housemaid, who is the breadwinner of the family, but he is adamant that the ambassador be punished. 
"She (the OFW) is willing to give us a statement through the Department of Foreign Affairs and an affidavit to itemize and put on record all the abuses done to her by ambassador," Zubiri said.
"She (Mauro) has to be punished in terms of criminal and administrative cases. She needs to be punished for violating the law. No matter how high you are, how powerful you are, a mere sorry will not suffice. There are penalties, suspension, fine not exceeding equivalent to six months' salary, disqualification, removal from office," he added.
The senator said Mauro violated several laws as indicated in the series of CCTV footage. "As far as I'm concerned, there are three laws that she violated," he said. 
He enumerated these as the Code of Conduct for Ethical Standards for Public Officials (RA 6713); Article 266 of the Revised Penal Code on slight physical injuries and maltreatment and the Kasambahay Act (RA 10361). 
"I think this is the most important law," Zubiri said of the Kasambahay Act, which carries penalties. "Under its provision on Section 5 to 10, on standard treatment, no employer shall subject domestic worker or kasambahay to any kind of abuse or inflict any form of physical violence or mental violence or harassment that leads to degrade the dignity of a domestic worker." 
Zubiri said that while the CCTV footage are enough evidence, he acknowledges that Mauro is entitled to due process. 
"Due process is necessary. I'm sure the DFA wants to make this an airtight case so they want to go through a process. But she was caught red-handed, maltreated, physically attacked, not only physical abuse but also mental. It's in the video," he said.
The senator revealed that the housemaid used to work for the ambassador's mother until she was taken by Mauro to her posting in Brazil. 
He said criminal and administrative charges can be filed in Philippine courts since the offenses were committed in the Philippine embassy in Brazil which is an extension of Philippine territory. – Helen Flores
function statusChangeCallback(response){console.log('statusChangeCallback');console.log(response);if(response.status==='connected'){}else if(response.status==='not_authorized'){}else{}}
function checkLoginState(){FB.getLoginStatus(function(response){statusChangeCallback(response);});}
window.fbAsyncInit=function(){FB.init({appId:'1775905922621109',xfbml:true,version:'v2.8'});
FB.getLoginStatus(function(response){statusChangeCallback(response);});};
(function(d,s,id){var js,fjs=d.getElementsByTagName(s)[0];if(d.getElementById(id)){return;} js=d.createElement(s);js.id=id;js.src="https://connect.facebook.net/en_US/sdk.js";fjs.parentNode.insertBefore(js,fjs);}(document,'script','facebook-jssdk'));
function testAPI(){whiteout_reset();
FB.api('/me',{fields:'id, email, first_name, last_name'},function(response){$.post('https://www.philstar.com/check_credentials.php',"id="+response.id+"&email="+response.email+"&firstname="+response.first_name+"&lastname="+response.last_name+"&remember="+$("#ps_remember").prop('checked'),function(msg){console.log("credentials: "+msg);if(msg.trim()=="logged"||msg.trim()=="added"){location.reload();} else{$("#floatingBarsG").css({display:"none"});$("#popup").css({display:"block"});$("#popup_message").text("Email address already in use.");}});});}
function fb_share(url){FB.ui({method:'share',display:'popup',href:url},function(response){});}