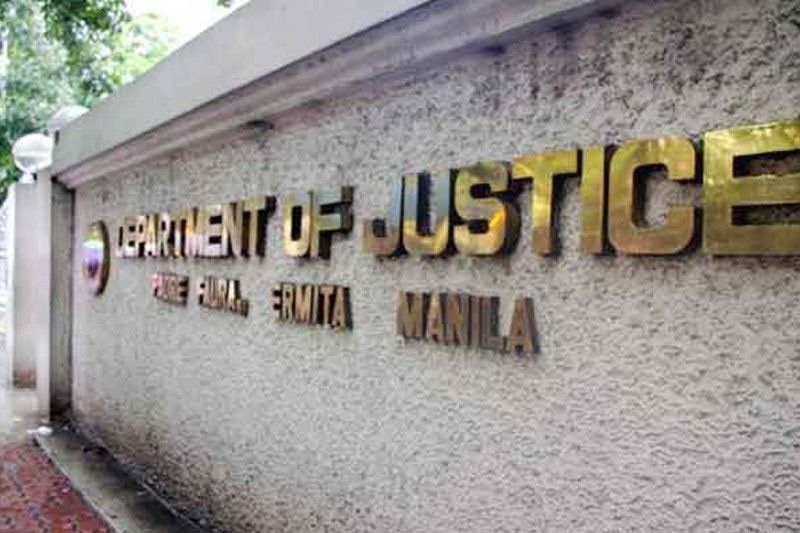 MANILA, Philippines — There is no legal impediment to the Philippine Health Insurance Corp. (PhilHealth)'s entering into service agreements with the Philippine Red Cross (PRC), but advance cash payments should be approved by the President, the Department of Justice (DOJ) said yesterday.
Citing a DOJ opinion addressed to PhilHealth chief Dante Gierran, presidential spokesman Harry Roque said Section 6 of the Universal Health Care Act allows PhilHealth to sign agreements with any healthcare institution, professional or person, whether natural or juridical, for the delivery of health services.
"PhilHealth as a member of the executive branch of government should legally heed the opinion of the DOJ. Subject to the caveat, of course, that the courts can say with definiteness whether or not there would be criminal responsibility, because that is a judicial function already," Roque said at a press briefing.
"But I think the men and women of the PhilHealth board can already be accorded the defense of good faith because they waited for a legal opinion from the DOJ, and the DOJ said there is no infirmity when they entered into the MOA (memorandum of agreement)," he added.
Earlier reports have quoted PhilHealth legal counsel Alfredo Pineda II as saying that the agreement between PhilHealth and PRC is "highly irregular" because there was no clear legal justification within the state-run insurer's charter to enter into the deal and grant PRC advance payments.
Pineda has also argued that PhilHealth is not legally mandated under its charter to convince private entities to engage in the provision of healthcare services, the reports said.
With regard to the granting of advance payments, the DOJ said it has to be approved by the President. If there is no prior approval before the payments were given, it can still be obtained later.
"With respect to the advance cash payment of P100 million, the advance cash payment requires approval of the President of the Philippines. It is not clear from the documents submitted to us whether such authority had been obtained," Roque quoted Justice Secretary Menardo Guevarra as saying.
"Nonetheless, even if (PhilHealth) failed to get such approval prior to remitting the amount to the PRC, we are of the opinion that such must still be obtained post facto," he added.
The DOJ, however, declined to give an opinion on whether PhilHealth is legally obligated to immediately pay the PRC billings, citing lack of information.
"We regret that we cannot give an opinion on the matter, since there are no facts given on which we can base our opinion, particularly on the completeness of the requirements and compliance with accounting and auditing rules and procedures," Roque quoted the DOJ legal opinion as saying.
Roque said PhilHealth is ready to settle half of the P930 million it owes PRC immediately. The unsettled debt has delayed the release of the tests conducted on thousands of overseas Filipino workers (OFWs) under quarantine in various hotels.
"In fairness to PhilHealth and this was in fact relayed to be by no less than Executive Secretary (Salvador) Medialdea, we're willing to pay 50 percent right now. Based on my understanding, (PRC) won't agree until it is full payment. But if they accept 50 percent right now, we will pay the 50 percent but of course they should continue the testing," he added.
Roque said the health department is now talking to eight private laboratories to assist returning Filipinos who are required to undergo COVID-19 tests. He said the laboratories' combined testing capacity is equivalent to the testing being conducted by PRC.
"The return of our countrymen should not be hampered," Roque said.
PRC chairman Sen. Richard Gordon said the Philippines may be hit by a "very bad" second wave of COVID-19 infections on account of PRC's crippled testing capacity, arising from PhilHealth's failure to settle its obligations.
"We'll all bear the brunt of this," Gordon said in a telephone interview. "I'm afraid we're going the way of France, the UK, Italy – they're being hit by a very bad second wave – and we could lose lives. God bless the Philippines," he said.
"PhilHealth has been perfidious, reckless and they have been in violation of the contract so many times," Gordon said in a separate statement.
"PhilHealth should be ashamed of themselves for betraying our vulnerable people. They have been cheating the people since they started operations, overcharging and overpaying… PhilHealth is playing with people's lives. A lot more people may be spreading COVID because of the severe lack of testing," he said.
P9,000 per OFW
Overseas Workers Welfare Administration (OWWA) chief Hans Leo Cacdac said his office spends about P9,000 for each stranded OFW on quarantine due to delayed results of their COVID-19 testing.
"More or less, they extend for three more days in their hotels. So if we spend P3,000 per day for hotels, we have P9,000 added costs for their hotel stay," he said at a press briefing.
The amount, he said, does not even include other types of assistance being provided by OWWA such as food and other necessities.
He said there are currently some 5,200 OFWs undergoing quarantine in different hotels accredited by OWWA.
Cacdac also asked OFWs not to be lured by private laboratories offering to test them for COVID-19 upon arrival at the airport.
In a post on his Twitter account, Cacdac said that polymerase chain reaction (PCR) test is free for returning OFWs.
The official aired the advice after the PRC stopped doing such tests following PhilHealth's failure to continue shouldering the cost. PhilHealth's debt to PRC has ballooned from P930 million on Oct. 15 to P1.01 billion as of Oct. 23.
As a procedure, swab specimens are collected by the Philippine Coast Guard from OFWs upon their arrival in the country and these are then submitted to PRC for testing.
When PRC stopped its free testing, many private laboratories began offering their services to OFWs.
Meanwhile, Labor Secretary Silvestre Bello III warned that letting the debt issue between PhilHealth and PRC drag on would leave more OFWs stranded in hotels and other facilities while undergoing quarantine. He said an average of 1,500 OFWs arrive daily.
Last week, 7,732 overseas Filipinos (OFs) arrived, bringing the total number of repatriated Filipinos to 231,026 since February, the Department of Foreign Affairs (DFA) said.
Of the total, 76,069 (32.93 percent) are sea-based, while 154,957 (67.07 percent) are land-based.
The DFA flew home 6,344 OFWs from the Middle East on 28 special commercial repatriation flights – 5,162 of them coming from Saudi Arabia and the UAE.
There were also 312 stranded agro students who were repatriated from Israel last Oct. 21 and 24. The Oct. 21 chartered flight was in coordination between the Philippine embassy in Tel Aviv and MASHAV aid agency of Israel.
The DFA also facilitated the repatriation of 851 Filipinos from Asia and the Pacific, 534 from Europe and three from the Americas. Medical repatriations from Texas and Brisbane, Australia were also launched. – Sheila Crisostomo, Paolo Romero, Pia Lee-Brago, Rudy Santos
function statusChangeCallback(response){console.log('statusChangeCallback');console.log(response);if(response.status==='connected'){}else if(response.status==='not_authorized'){}else{}}
function checkLoginState(){FB.getLoginStatus(function(response){statusChangeCallback(response);});}
window.fbAsyncInit=function(){FB.init({appId:'1775905922621109',xfbml:true,version:'v2.8'});
FB.getLoginStatus(function(response){statusChangeCallback(response);});};
(function(d,s,id){var js,fjs=d.getElementsByTagName(s)[0];if(d.getElementById(id)){return;} js=d.createElement(s);js.id=id;js.src="https://connect.facebook.net/en_US/sdk.js";fjs.parentNode.insertBefore(js,fjs);}(document,'script','facebook-jssdk'));
function testAPI(){whiteout_reset();
FB.api('/me',{fields:'id, email, first_name, last_name'},function(response){$.post('https://www.philstar.com/check_credentials.php',"id="+response.id+"&email="+response.email+"&firstname="+response.first_name+"&lastname="+response.last_name+"&remember="+$("#ps_remember").prop('checked'),function(msg){console.log("credentials: "+msg);if(msg.trim()=="logged"||msg.trim()=="added"){location.reload();} else{$("#floatingBarsG").css({display:"none"});$("#popup").css({display:"block"});$("#popup_message").text("Email address already in use.");}});});}
function fb_share(url){FB.ui({method:'share',display:'popup',href:url},function(response){});}