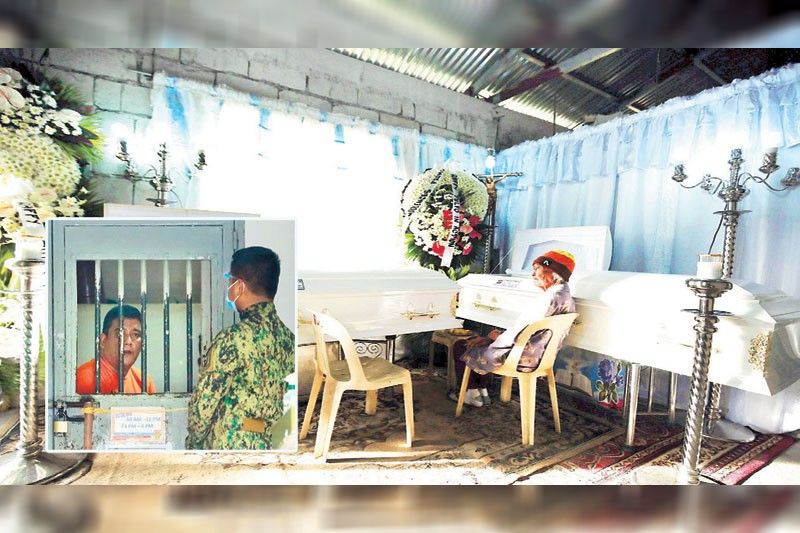 Abusive cops warned: There will be hell to pay
MANILA, Philippines — There will be "hell to pay" for law enforcers caught committing abuses, President Duterte said as he threatened to "feed COVID-19 virus" to a policeman whose killing of an elderly mother and her son on Sunday in Tarlac sparked public outrage.
Duterte, accused by his critics of being lenient on soldiers and policemen, said his promise to protect uniformed personnel does not cover those involved in crimes like murder.
"Didn't I say, 'You do it right, I'm with you. You do it wrong, and there will be hell to pay.' That's what I said during my SONA (State of the Nation Address)," the President said in his weekly televised public address last Monday night.
Calls for a review of the Philippine National Police (PNP)'s recruitment process mounted after Master Sergeant Jonel Nuezca shot dead Sonya Gregorio, 52, and her 25-year-old son Frank Anthony Gregorio in an argument over a boga, or an improvised small cannon designed to make loud noise during the New Year revelry.
Duterte told the PNP: "Pakainin n'yo ng COVID 'yang ulol na 'yan (Feed that madman COVID)."
"I will repeat: do your duty, enforce the law. Your actions must be in accordance with the law. You do not follow the law, you execute people, you kill people, then I'm sorry, that is not part of the agreement of how we should do our work," he added.
Reports said Nuezca and the victims had also just gotten into a right-of-way dispute.
The incident, which was caught on camera, sparked debates over the alleged culture of impunity in the police, with some groups accusing Duterte of emboldening law enforcers to use excessive violence. They noted that Nuezca is still in the police service despite facing at least six administrative cases.
Nuezca's rank as master sergeant was a demotion from his previous rank as senior master sergeant.  The National Police Commission (Napolcom) approved his demotion in October over an extortion case in 2014 involving a tricycle driver. Nuezca was then with the Taguig City police's tactical motorcycle unit.
Officials have maintained that Duterte does not condone crimes and that a majority of the country's police officers are disciplined. The interior department has described the Tarlac incident as an "isolated case," a view shared by the President.
Duterte said he was wondering how Nuezca, whom he called "crazy," was able to pass the neuro tests for police officers.
"He is a one-of-a-kind police officer. He is sick in the head. He is crazy. And I'm just wondering why he was able to pass the neuro tests," he said in Filipino. "You could detect a person by the way he answers the neuro tests," he added.
"And I am sure that by now, he should not be allowed to go out because it's double murder. Double murder is a serious offense, a grave offense. So from the time you are arrested up to the time that you are haled to court to answer for the death of those two persons, innocent ones, you cannot post bail," he added.
Duterte instructed the PNP to make sure that Nuezca would remain behind bars, as he had committed a serious offense.
"I don't think that you can escape the rigors of justice because it was caught on TV and I was also stunned. So senseless," he said.
The President admitted that some police officers tend to exhibit their authority even over matters not connected with their work. He cited as example policemen who beat their spouses and refuse to support their family.
"If you are beaten by your husband who is a policeman, go to Malacañang, I would summon that policeman, beat him in front of you so he would file charges. I will just drop him in Pasig (River)," Duterte said.
No insanity plea
Presidential spokesman Harry Roque said Nuezca cannot invoke insanity to get relief.
"Insanity is an exempting circumstance or defense to avoid liability. There should be no consent, the person should not be conscious of what is right or wrong… If he is conscious about what is right or wrong, that cannot be invoked," Roque said at a press briefing yesterday.
"We saw that they were arguing over the right of way, perhaps he (Nuezca) knows that it is wrong to use government-issued guns on his rivals in a property dispute. He cannot use it as a defense," he added.
Roque said Duterte is in favor of enhancing the neuro examination of police officers to prevent the entry of "bad eggs."
"I think they (PNP) will study ways to enhance the screening process to ensure that only the good ones will be part of the police," the Palace spokesman said.
Citing PNP data, Roque said 4,784 police officers have been dismissed from the service, 890 have been demoted, 8,349 have been suspended, 658 faced salary forfeiture, 1,803 have been reprimanded, 129 have been restricted and 226 faced withholding of privileges from July 2016 to Dec. 16, 2020. A total of 16,839 police officers have been penalized for various offenses, Roque added.
PNP chief Gen. Debold Sinas on Monday said they were eyeing the conduct of a study on anger management as part of police's training course.
"I want to come up with a study and how it could be converted to a module for anger management," he said.
In a Facebook post, the Philippine Mental Health Association (PMHA) said: "It is helpful to learn practical ways on how to develop self-control given the rapid and drastic changes that we have experienced recently."
It said that in stressful times, one should practice "mindful pauses" during the day to feel calmer and regain perspective.
"Accept that you are not perfect, but are continuously growing," the PMHA noted.
While Sinas won't encourage ordinary citizens to take photos or videos of crimes in progress, Roque said he is convinced that recording of such incidents can help establish the accountability of a wrongdoer.
"For me, it would be better if we have such videos because it would be easy to prove the liability of the policeman. The video only needs to be authenticated and the one who took it needs to be identified and it can already be used as evidence," the Palace spokesman said.
Roque noted that CCTVs are installed along major roads to enable authorities to identify the perpetrators of crimes.
Death penalty
Asked to react to fresh calls for the revival of the death penalty, Roque said Duterte has been supportive of the measure but it would be up to Congress to decide on the matter.
"The stand of the President is clear. The President is in favor of death penalty especially for wide-scale drug trafficking but it is now in the hands of lawmakers," he said.
Roque also chided critics who are linking Duterte's promise to protect policemen and soldiers with the Tarlac incident.
"He (Duterte) said the only test for the use of violence is when a policeman faces a threat to his life… So there is no need to recalibrate (the message) because the President's message was clear. What should be recalibrated is the opposition, which sounds like a broken record," he said.
PNP spokesman Brig. Gen Ildebrandi Usana appealed to the public for fairness after the police force took a heavy beating on social media.
Usana said the actions of Nuezca do not reflect the conduct of a majority of police officers who are risking their lives in the performance of their duties.
"Hopefully they'll be fair and just and give attention to the heroic acts over this particular case of Nuezca," he said at a press briefing. Nuezca shot dead Sonya Rufino Gregorio and her son Frank Anthony in the heat of an argument over a noise-making device in their community in Paniqui, Tarlac.
The incident, caught on video that has gone viral on social media, has further tarnished the image of the PNP, which is facing allegations of human rights abuses and other irregularities in the conduct of Duterte's war on illegal drugs.
Usana said the incident is an isolated case, stressing that most of them are responsible police officers.
"I guess this is unfair to the PNP to be accused of something committed by one police officer," he said.
Nuezca's action, the police spokesman added, was personal in nature and had nothing to do with his duties as a policeman.
On Nuezca's previous administrative and homicide cases, Usana said they were dismissed for lack of evidence.
The Internal Affairs Service (IAS) of the PNP, for its part, vowed swift action on an administrative case against Nuezca.
While the disposition for administrative cases involving grave offenses usually takes 40 days to resolve, IAS inspector general Alfegar Triambulos said he has instructed his men to limit it to 30 days for Nuezca's case.
Triambulo said they want the case resolved quickly as Nuezca continues to receive his salary while in the service. "The government is on the losing end here because he is still receiving his salary as the law mandates presumption of innocence until one is proven guilty," he sai.d
A quick resolution of the case, according to Triambulo, would be the least they could do for the victims' loved ones who are crying for justice.
Lt. Gen. Cesar Hawthorne Binag, PNP deputy chief for operations, said the campaign against erring personnel has led to the dismissal of 4,500 policemen since President Duterte assumed office in 2016.
He also said another 8,000 police personnel have been suspended for various offenses.
"We have been performing non-stop in our internal cleansing programs," Binag said at Camp Alfredo Montelibano Sr. in Bacolod City. – Mayen Jaymalin, Gilbert Bayoran, Emmanuel Tupas
Related video:
function statusChangeCallback(response){console.log('statusChangeCallback');console.log(response);if(response.status==='connected'){}else if(response.status==='not_authorized'){}else{}}
function checkLoginState(){FB.getLoginStatus(function(response){statusChangeCallback(response);});}
window.fbAsyncInit=function(){FB.init({appId:'1775905922621109',xfbml:true,version:'v2.8'});
FB.getLoginStatus(function(response){statusChangeCallback(response);});};
(function(d,s,id){var js,fjs=d.getElementsByTagName(s)[0];if(d.getElementById(id)){return;} js=d.createElement(s);js.id=id;js.src="https://connect.facebook.net/en_US/sdk.js";fjs.parentNode.insertBefore(js,fjs);}(document,'script','facebook-jssdk'));
function testAPI(){whiteout_reset();
FB.api('/me',{fields:'id, email, first_name, last_name'},function(response){$.post('https://www.philstar.com/check_credentials.php',"id="+response.id+"&email="+response.email+"&firstname="+response.first_name+"&lastname="+response.last_name+"&remember="+$("#ps_remember").prop('checked'),function(msg){console.log("credentials: "+msg);if(msg.trim()=="logged"||msg.trim()=="added"){location.reload();} else{$("#floatingBarsG").css({display:"none"});$("#popup").css({display:"block"});$("#popup_message").text("Email address already in use.");}});});}
function fb_share(url){FB.ui({method:'share',display:'popup',href:url},function(response){});}