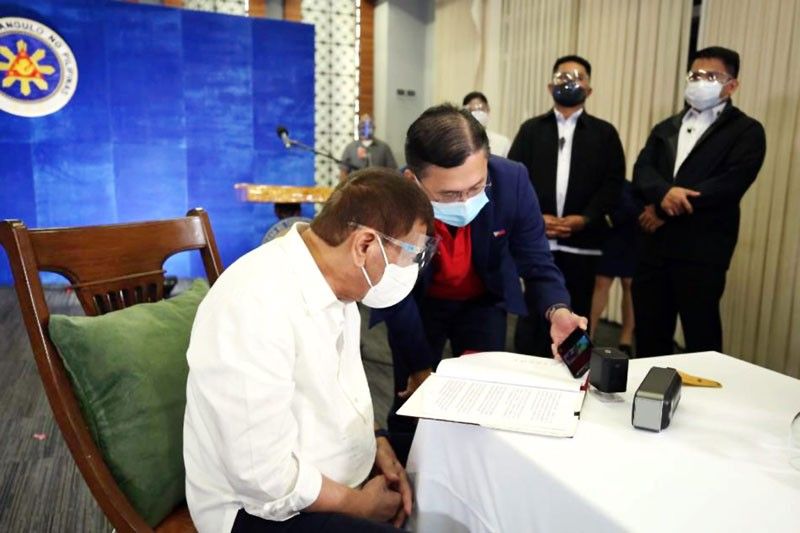 MANILA, Philippines — President Duterte was infuriated by a viral video showing a policeman killing a mother and son in Tarlac and will not protect the suspect, Sen. Bong Go said yesterday, as Malacañang assured the public that the victims' family would get justice.
Go showed the viral video to Duterte yesterday and said the President was angered by what he saw.
Presidential spokesman Harry Roque said Staff Sgt. Jonel Nuezca cannot claim that the incident in Paniqui was related to the performance of his duty.
"We condemn what happened in Tarlac. Let me clarify that this is not a service-related double murder. This is about a rift involving the positioning of a property," Roque said at a press briefing.
"Why would the President protect him when it's not service-related? It's a private matter. It just happened that he is a policeman, but he needs to be accountable."
Nuezca, 46, who is assigned at the Parañaque City Crime Laboratory, later surrended to the police station in nearby Rosales, Pangasinan after he shot his two neighbors, identified as Sonya Rufino Gregorio, 52, and her son Frank Anthony, 25.
Roque said the twin slays would be treated as an ordinary murder case that would undergo investigation.
"The President has repeatedly said that force should only be used if there is a threat to the life of a policeman or a soldier. The President does not tolerate any wrongdoing. The incident in Tarlac is a criminal act. That's double murder and it will be investigated," the Palace spokesman said.
"We will investigate, file charges, prosecute and punish that policeman. No ifs, no buts. There will be justice because we have seen the evidence," he added.
Duterte has vowed to protect policemen and soldiers who would face charges for carrying out law enforcement operations. He has also promised to take responsibility for the actions of uniformed personnel enforcing his crackdown on illegal drugs.
Three years ago, Duterte said policemen should be allowed to carry their guns even if they are not on duty. The President, however, reminded police officers not to use their firearms against innocent civilians.
"I am not in favor of the rule that you cannot bring your sidearm outside of your camp residence. I will overrule that kind of regulation because it is stupid," he said in a speech delivered on July 18, 2017.
Roque also disputed claims that Duterte's rhetoric had emboldened policemen to use unnecessary force against civilians.
"You know, all institutions in our country and in the world have bad eggs. What is clear is our police is admirable. Their capital is their life," the Palace spokesman said.
Roque also brushed aside the #oustdutertenow hashtag which trended in social media after some netizens criticized Duterte's supposed leniency toward the police.
"With regard to #oustduterte, we know who are behind that, those who are greedy for power and who cannot wait for 2022," he said.
Senate Minority Leader Franklin Drilon described as "pure evil" the killing of the Gregorios by the policeman.
"This is pure evil. That devil who committed an evil act in front of his own daughter deserves to rot in jail. I have no words to describe his unspeakable act. He should spend Christmas and a lifetime in jail," Drilon said.
"So long as the culture of impunity exists in the country, and when there is a system that rewards misdeeds instead of punishing them, police abuses and violence will continue. Impunity breeds trigger-happy cops," Drilon added.
Sen. Bong Go condemned the killing of the mother and son in Tarlac.
"I express condolences to the bereaved. The President and I will help with whatever needs you have and assure that justice will be served this senseless crime," Go said in Filipino.
Go called on authorities to make sure that the suspect will rot in jail to purge the police ranks of bad eggs.
Sen. Panfilo Lacson, a former national police chief, enjoined the police leadership to show no mercy on Nuezca.
"If what's on video tells the whole story, I enjoin the Philippine National Police (PNP) leadership to show no mercy. They should spare no effort to make sure that he rots in jail. He's the last policeman that they need in the force," Lacson said.
Sen. Francis Pangilinan described the incident as outrageous.
"That is the result when the abusive and corrupt police are tolerated or not punished. We will wait for the administration to condemn the incident and ensure that the corrupt and abusive police are punished instead of tolerated," he added.
Sen. Nancy Binay called for a top-to-bottom value reorientation of all law enforcement institutions to end the culture of impunity, police abuse and undesirable practices.
"The entire ranks of our PNP need intense across-the-board value reorientation, because many seem to have forgotten their sacred duty to serve and protect even the most humble Filipinos," she said. — Cecille Suerte Felipe, Paolo Romero
Related video:
function statusChangeCallback(response){console.log('statusChangeCallback');console.log(response);if(response.status==='connected'){}else if(response.status==='not_authorized'){}else{}}
function checkLoginState(){FB.getLoginStatus(function(response){statusChangeCallback(response);});}
window.fbAsyncInit=function(){FB.init({appId:'1775905922621109',xfbml:true,version:'v2.8'});
FB.getLoginStatus(function(response){statusChangeCallback(response);});};
(function(d,s,id){var js,fjs=d.getElementsByTagName(s)[0];if(d.getElementById(id)){return;} js=d.createElement(s);js.id=id;js.src="https://connect.facebook.net/en_US/sdk.js";fjs.parentNode.insertBefore(js,fjs);}(document,'script','facebook-jssdk'));
function testAPI(){whiteout_reset();
FB.api('/me',{fields:'id, email, first_name, last_name'},function(response){$.post('https://www.philstar.com/check_credentials.php',"id="+response.id+"&email="+response.email+"&firstname="+response.first_name+"&lastname="+response.last_name+"&remember="+$("#ps_remember").prop('checked'),function(msg){console.log("credentials: "+msg);if(msg.trim()=="logged"||msg.trim()=="added"){location.reload();} else{$("#floatingBarsG").css({display:"none"});$("#popup").css({display:"block"});$("#popup_message").text("Email address already in use.");}});});}
function fb_share(url){FB.ui({method:'share',display:'popup',href:url},function(response){});}