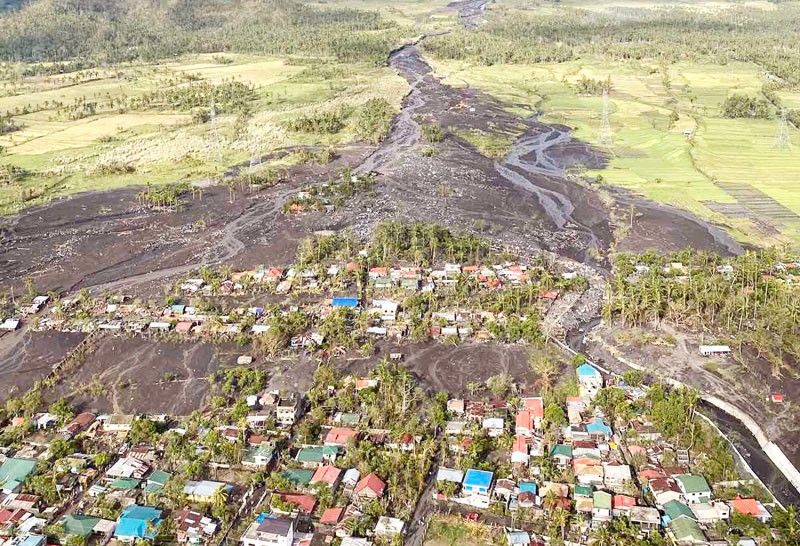 LEGAZPI CITY,Philippines — Super Typhoon Rolly left at least 17 people dead, scores injured and three missing in Albay and Catanduanes where the storm made landfall on Sunday, the Office of Civil Defense (OCD) in Bicol reported yesterday.
The Department of Environment and Natural Resources suspended quarrying in Guinobatan, Albay amid complaints from residents that quarry materials left in the open aggravated mudflows that rampaged down the slopes of Mayon Volcano at the height of Rolly, causing death and destruction.
Killed were Ligaya Olayta, Malou Sanchez Nota, Santiago de los Angeles Jr., 37, and Samuel Cervantes Manrique Jr., 5, all of Guinobatan, and Lenelyn Lodado, 50, of Daraga. Two were killed in Malinao, one in Oas, one in Polangui and one in Tabaco City, all in Albay.
Also among the fatalities were Luis Ubalde Jr., 48, of Gigmoto, Catanduanes; four more in Virac and one in San Miguel in Catanduanes, the OCD reported.
Most of the fatalities drowned when flash floods hit their villages.
Philippine Red Cross chairman Sen. Richard Gordon said PRC teams retrieved the bodies of drowning victims Michaela Jacob and Danilo Barba in Virac.
OCD also identified the missing residents as Elvie Cervantes Manrique, 50; Michaela Cervantes Manrique,18, of San Francisco; and Dave Ongaria of Travesia in Guinobatan, Albay.
An OCD-led aerial survey was conducted over Catanduanes that showed the devastation to houses, infrastructure and agriculture left by Rolly when it barreled through Bato town where the storm first made landfall.
The storm also rendered all the Bicol provinces without electricity and with very limited internet signal.
Disaster management officials had a hard time reaching storm-devastated areas in Catanduanes due to debris that blocked roads and floods in some villages.
The damage brought by Rolly to Catanduanes was likened to that of Super Typhoon Yolanda that hit the Visayas in November 2013.
Gordon said that based on the PRC's initial visual assessment as of yesterday, the damage in Catanduanes is equivalent to 70 percent of damage caused by Yolanda seven years ago.
"According to (our teams), it's almost like 70 percent of Haiyan (Yolanda). That's what it looks like, I will preface my statement by saying that this is visual. We're just now sending people in every town," Gordon said, citing a visual report that showed damage in at least three towns in Catanduanes.
He said that in Virac alone, 80 to 90 percent of all the houses have been damaged, displacing hundreds, if not thousands, of people. Rolly also damaged about 50 percent of houses in San Andres and 80 percent in Bato. Eight more towns were yet to be given assessments by the humanitarian organization.
The PRC teams in Catanduanes used satellite phones to send reports to Manila since all communication networks are down in the island province.
The Philippine National Police (PNP) said an estimated 90 percent or almost all infrastructure in Catanduanes have been destroyed by Rolly.
Jsar Adornado, OCD-Bicol operations chief, said that a helicopter landed in Catanduanes and met Gov. Joseph Cua.
Some 394,859 persons evacuated before the typhoon hit Bicol and have been staying in evacuation centers.
Maritime officials allowed yesterday sea vessels loaded with passengers and cargo vehicles to sail from Matnog Port in Sorsogon.
But over a hundred cargo trucks remained stranded at the boundary of Pilar, Sorsogon and Daraga, Albay, waiting for the go-signal from the Philippine Ports Authority for them to proceed to Matnog.
The Civil Aviation Authority of the Philippines (CAAP) said the Naga Airport suffered minor damage and flights resumed yesterday morning.
Meanwhile, the passenger terminal building of the Legazpi Airport sustained minimal damage in its ceiling boards and runway lights, but operations were able to commence.
CAAP said minor damage to buildings were also reported at the Marinduque Airport and
Sangley Airport in Cavite.
Meanwhile, the Ninoy Aquino International Airport (NAIA) resumed operations after closing its aerodrome to all types of flights for 24 hours.
Typhoon exits
Typhoon Rolly, considered the world's strongest tropical cyclone so far this year, continued to weaken as it moved away from the country yesterday.
Rolly reached the super typhoon category, with over 225 kilometers per hour maximum sustained winds, when it made landfall over parts of the Bicol region on Sunday.
All tropical cyclone wind signals associated with Rolly were lifted as of 11 a.m. yesterday.
However, cloudy skies with scattered rainshowers and thunderstorms would prevail over Western Visayas, Zamboanga Peninsula, Zambales, Bataan, Occidental Mindoro, Palawan, Basilan, Sulu and Tawi-Tawi due to the trough or extension of Typhoon Rolly.
As of 3 p.m., the center of Rolly was spotted 225 kilometers west of Iba, Zambales, packing winds of 65 kph near the center and gustiness of up to 80 kph.
It was forecast to move north northwest at 15 kph.
Defense Undersecretary Ricardo Jalad assured residents in affected areas that personnel and equipment from the military have been deployed and will continue to be fielded to help other government agencies and local government units (LGUs) in assisting affected residents.
Armed Forces of the Philippines (AFP) chief Gen. Gilbert Gapay and PNP deputy chief for operations Lt. Gen. Cesar Binag both gave assurance that search and rescue operations along with humanitarian assistance and disaster response (HADR) operations would continue in affected areas.
Data show that more than two million people were affected by Typhon Rolly, with thousands pre-emptively evacuated in various temporary shelters including 5,404 schools.
Interior Secretary Eduardo Año noted that though there are casualties and damage to property and agriculture, pre-emptive measures put in place by LGUs and key government agencies dramatically reduced the effects of Rolly.
Agriculture Secretary William Dar said estimated damage to agriculture is placed at P1.7 billion with some 20,000 farmers affected.
He reported that most of the commodities that have been badly damaged are rice and corn and other high-value crops which the government will try to lessen the impact of by distributing replanting seeds and fingerlings to farmers and fishermen and offering zero interest loans to those who would need financial assistance.
On the bright side, Dar said pre-emptive measures done before the typhoon hit saved 242,000 hectares of rice in Regions 1, 2, 3, 4a and 5, representing one million metric tons worth P16.9 billion.
As for corn, Dar said 11,000 hectares of corn in Regions 1, 2, 5 and 8 representing 45,703 metric tons worth P579 million were also saved.
The DA's Philippine Crop Insurance Corp. will grant indemnity to farmers and fishermen who would avail themselves of insurance coverage.
He said there are some 53,863 households experiencing blackouts and power interruptions which various power companies are now working to restore.
Public Works Secretary Mark Villar said there are still some 18 road sections that remain closed due to landslides, flooding, fallen trees and utility posts, among other incidents.
He, however, gave assurance that the Department of Public Works and Higways, in partnership with other government agencies and LGUs, is working on clearing the roads with heavy equipment, tools and personnel.
At a media briefing by the National Disaster Risk Reduction and Management Council (NDRRMC), Energy Secretary Alfonso Cusi said there is no electricity in the entire Catanduanes and many parts of Bicol.
Cusi said aside from the two areas, more than 53,000 residents also have no electricity as of
6 a.m. yesterday in parts of Cavite, Quezon, Laguna, Rizal, Batangas, Bulacan and Metro Manila.
"This excludes Catanduanes because totally there's no electricity in the area," Cusi said.
He added that Manila Electric Co. (Meralco) and other industry players are working on addressing the power outages.
In a statement, the National Electrification Administration-Disaster Risk Reduction Management Department (NEA-DRRMD) reported that several provinces in the Bicol region and parts of Calabarzon and Eastern Visayas under the coverage areas of 17 electric cooperatives (ECs) are without electricity as of 8 a.m. Monday.
Power outages have occurred in parts of Quezon, Laguna and Batangas in Calabarzon; Catanduanes, Camarines Sur, Camarines Norte, Albay, Masbate and Sorsogon in Bicol; and Northern Samar and Western Samar in Eastern Visayas, the NEA said.
PNP chief Gen. Camilo Cascolan said the police would be assisting the Department of Trade and Industry in enforcing the price freeze on basic commodities, citing an automatic price control implemented for areas under a state of calamity for a period not more than 60 days under Republic Act 7581 or the Price Act.
Trade Secretary Ramon Lopez in a Viber message said a price freeze was implemented starting yesterday in Cavite due to the typhoon.
He said a price freeze was already in place in other areas such as Albay, Batangas, Oriental Mindroro and Marinduque due to Typhoon Quinta last week.
The Philippine Coast Guard (PCG) delivered relief goods and communication equipment and transported doctors to Catanduanes.
Meanwhile, the Archdiocese of Manila through Auxiliary Bishop Broderick Pabillo appealed for donations to help tide over those affected by the latest typhoon.
Caritas Manila has pledged to donate P1 million in cash to five dioceses that suffered most from Rolly. — Helen Flores, Michael Punongbayan, Louise Maureen Simeon, Neil Jayson Servallos, Catherine Talavera, Richmond Mercurio, Rudy Santos, Jose Rodel Clapano, Evelyn Macairan, Louella Desiderio
function statusChangeCallback(response){console.log('statusChangeCallback');console.log(response);if(response.status==='connected'){}else if(response.status==='not_authorized'){}else{}}
function checkLoginState(){FB.getLoginStatus(function(response){statusChangeCallback(response);});}
window.fbAsyncInit=function(){FB.init({appId:'1775905922621109',xfbml:true,version:'v2.8'});
FB.getLoginStatus(function(response){statusChangeCallback(response);});};
(function(d,s,id){var js,fjs=d.getElementsByTagName(s)[0];if(d.getElementById(id)){return;} js=d.createElement(s);js.id=id;js.src="https://connect.facebook.net/en_US/sdk.js";fjs.parentNode.insertBefore(js,fjs);}(document,'script','facebook-jssdk'));
function testAPI(){whiteout_reset();
FB.api('/me',{fields:'id, email, first_name, last_name'},function(response){$.post('https://www.philstar.com/check_credentials.php',"id="+response.id+"&email="+response.email+"&firstname="+response.first_name+"&lastname="+response.last_name+"&remember="+$("#ps_remember").prop('checked'),function(msg){console.log("credentials: "+msg);if(msg.trim()=="logged"||msg.trim()=="added"){location.reload();} else{$("#floatingBarsG").css({display:"none"});$("#popup").css({display:"block"});$("#popup_message").text("Email address already in use.");}});});}
function fb_share(url){FB.ui({method:'share',display:'popup',href:url},function(response){});}