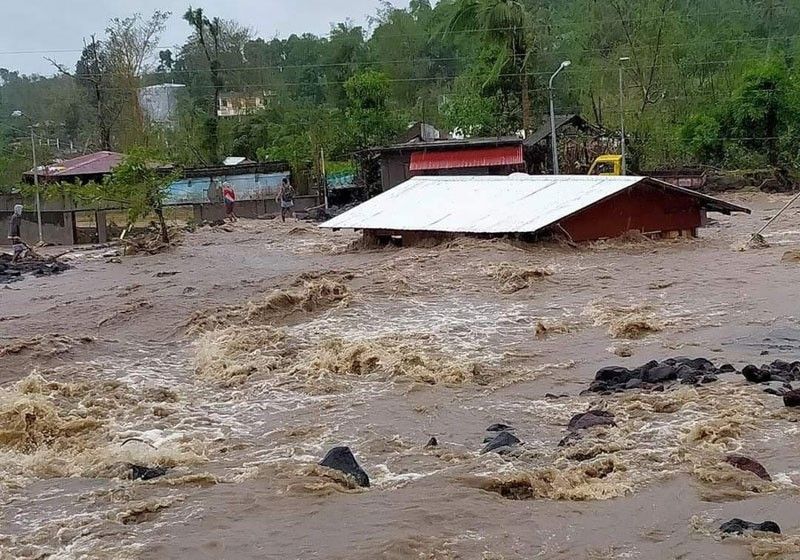 Typhoon spawns lahar flows, landslides
MANILA, Philippines — Super Typhoon Rolly (international name Goni) the world's strongest tropical cyclone so far this year pounded Southern Luzon yesterday with ferocious winds and intense rains, killing at least seven people.
As Rolly continued to plow through parts of Luzon, Tropical Storm Siony (Atsani) entered the Philippine area of responsibility, but state weathermen said it is unlikely to affect the country in the next two to three days.
Torrential rains spawned by Rolly triggered lahar flow from Mayon Volcano and massive flooding in Albay, while storm surges hit parts of Quezon.
Metro Manila also experienced light to moderate with occasional heavy rains and strong winds as the eye of Rolly passed near the capital.
The typhoon was expected to cross the Batangas-Cavite area late afternoon through evening yesterday, bringing destructive winds and intense rainfall.
Rolly was forecast to be 70 kilometers south of Metro Manila between 5 p.m. and 7 p.m. It was expected to exit the landmass of mainland Luzon and move toward the West Philippine Sea last night.
With peak winds reaching 225 kilometers per hour, Rolly is the strongest cyclone to hit the Philippines since Super Typhoon Lawin in 2015, the Philippine Atmospheric, Geophysical and Astronomical Services Administration (PAGASA) said.
But the US' Joint Typhoon Warning Center (JTWC) estimated Rolly's maximum sustained winds to be 195 miles per hour or 315 kph, matching the peak wind speed of Super Typhoon Haiyan (Yolanda) in November 2013 that killed 6,300 people in Eastern Visayas.
PAGASA said Yolanda had maximum sustained winds of 235 kph.
PAGASA and the JTWC use different standards in classifying cyclones. The JTWC uses one-minute average readings for a cyclone's wind speed, while PAGASA has lower figures as it uses 10-minute readings.
Rolly weakened into a typhoon after making landfall over Bato, Catanduanes and Tiwi, Albay yesterday morning and in San Narciso, Quezon at around noon.
Signal No. 5 – the highest tropical cyclone wind signal – was raised over parts of the Bicol region early yesterday.
Rolly's maximum sustained wind, however, weakened to 165 kph as of 4 p.m.
As of 5 p.m., signal No. 3 was hoisted over the southern portion of Zambales, Bataan, southern portion of Pampanga, southern portion of Bulacan, Rizal, Quezon including Polillo islands, Metro Manila, Cavite, Laguna, Batangas, Marinduque, northwestern portion of Occidental Mindoro including Lubang island, and the northern portion of Oriental Mindoro.
Signal No. 2 was raised over the rest of Zambales, the rest of Pampanga, the rest of Bulacan, southern portion of Tarlac, the rest of Occidental Mindoro, the rest of Oriental Mindoro, and the southern portion of Nueva Ecija.
Signal No. 1 was up in mainland Cagayan, Isabela, Apayao, Kalinga, Mountain Province, Ifugao, Abra, Ilocos Norte, Ilocos Sur, La Union, Benguet, Nueva Vizcaya, Quirino, the rest of Aurora, the rest of Nueva Ecija, the rest of Tarlac, Camarines Sur, Camarines Norte, Burias Island, Romblon and Calamian Islands.
As of 4 p.m., the eye of Rolly was located at 50 kms. south southwest of Tayabas, Quezon, packing winds of 165 kph near the center and gustiness of up to 230 kph.
It was forecast to move west at 25 kph.
Rolly was forecast to exit the Philippine area of responsibility tomorrow.
Meanwhile, PAGASA weather forecaster Chris Perez said Siony was expected to remain over the Philippine Sea in the next 24 to 48 hours.
As of 10 a.m., the center of Siony was spotted 1,365 kms east of Central Luzon, packing winds of 75 kph and gustiness of up to 90 kph.
It is forecast to move west northwest at 30 kph.
The National Disaster Risk Reduction and Management Council (NDRRMC) said that between 19.8-million to 31.1-million individuals, or about a third of the country's population, lived in the areas directly along the 120-kilometer radius of Rolly's track.
Of this number, about 2.4 million were considered to be from the poor sector and about 221,000 households lived in houses made of light materials.
As of yesterday noon, around 96,000 families or more than 346,000 individuals were in evacuation centers in Region 5.
NDRRMC executive director Ricardo Jalad said that power and communication lines went down in some areas as winds by Rolly were capable of bringing down trees and posts in its path.
Deaths, lahar warning
Rolly has left at least seven people killed in its wake in the province of Albay, according to the NDRRMC.
There was one death each reported in the municipalities of Daraga, Guinobatan, Oas, Polangui and Tabaco City.
There were two deaths in the municipality of Malinao.
The NDRRMC said they are still awaiting details on the cause of deaths for each of the incidents.
Yesterday, Albay Gov. Al Francis Bichara said they accounted for four of the seven deaths in the province, three of which were due to a broken dike.
This includes a five-year-old child who he said may have been swept away by the heavy current.
The other person was killed due to a fallen tree.
Bichira said they have also noted lahar flows from Mount Mayon, which he likened to an avalanche.
The Philippine Institute of Volcanology and Seismology earlier warned that Rolly was expected to generate lahar in the active volcanoes of Mayon, Pinatubo and Taal.
Plane, train operations stop
The Manila International Airport Authority (MIAA) in a late advisory Saturday night, announced the 24-hour closure of the Ninoy Aquino International Airport (NAIA) to all types of flight operations from 10 a.m. yesterday to 10 a.m on Nov. 2.
MIAA general manager Ed Monreal also informed air travelers that, for the duration of the 24-hour closure, NAIA terminals will be closed, and likewise appealed to passengers not to go to the airport.

He advised passengers to immediately coordinate with their airlines to get instructions about their new flight schedules. Airlines were also told to make sure that their customer service hotlines are ready to take in the expected surge of calls from passengers.
The Clark Airport management also advised all passengers, with scheduled flights to and from the Clark International Airport from yesterday and today, to coordinate with their airlines prior to proceeding to the airport for any possible flight delay or cancellation.
Meanwhile, operations of the LRT-1, LRT-2, MRT-3, and PNR were also suspended yesterday morning.
PNR's Bicol Commuter Train system did not open for train trips yesterday, while the region was being battered by Rolly.
The Department of Transportation (DOTr) said passengers and employees who were already on trains and stations were ferried to their destinations.
Power outages
Based on the monitoring of the National Electrification Administration (NEA) Disaster Risk and Reduction and Management Department as of 8 a.m. yesterday, provinces in the Bicol region under the coverage areas of 10 electric cooperatives (ECs) are without power due to Super Typhoon Rolly.
"These are the provinces of Catanduanes, Camarines Sur, Camarines Norte, Albay, Sorsogon and Ticao Island in Masbate. Power restoration efforts are ongoing," the NEA said.
The affected ECs include FICELCO in Catanduanes; CASURECO I-IV in Camarines Sur; CANORECO in Camarines Norte; ALECO in Albay; TISELCO in Masbate, and SORECO I and II in Sorsogon.
'Monitoring'
President Duterte has been monitoring the situation in areas hit by Rolly and has ordered agencies to help affected communities, Malacañang said yesterday, as critics questioned his absence during the government's first high-level meeting on the typhoon.

Presidential spokesman Harry Roque Jr. said Duterte, who has been in Davao City since Oct. 21, was scheduled to return to Manila on Tuesday. The President was also expected to deliver a public address on the typhoon yesterday or today, he added.
"The President has been monitoring and he has ordered us to hold a press briefing. We will be with all secretaries of agencies that are providing help to our countrymen," Roque said during a meeting of the NDRRMC in Camp Aguinaldo.
"The President ordered us to hold this meeting in NDRRMC to ensure that all the needs of our countrymen who were affected by the typhoon would be provided immediately. All secretaries are on call especially the heads of departments involved in the giving of assistance," he added.
Roque maintained that the President was updated on the situation in affected areas.

"He is not unreachable. He has been monitoring and continues to give us instructions. As I said, we are arranging the address of the President anytime either today (yesterday) or tomorrow (Nov. 2)," Roque said.
President Duterte is expected to visit today the provinces in Bicol that were ravaged by Rolly to get briefing on the extent of damage and determine what assistance the national government could extend.
Public assurance
Sen. Bong Go sought yesterday to assure the public that President Duterte is closely monitoring the situation as Typhoon Rolly pounded Southern Luzon.
Go said Duterte has given directives to concerned government agencies to ensure preparedness and proper response to the effects of the typhoon.
"We continue to monitor with President Duterte the status of this typhoon. The President made sure that government agencies are always prepared to give immediate assistance to places affected by the typhoon," the senator said in Filipino.
He said Duterte is in Mindanao but he could return to Metro Manila as soon as possible when weather permits.
Gov't agencies on alert
The Department of Health (DOH) has placed all government-run hospitals in Calabarzon under blue alert to ensure availability of health services for residents affected by the super typhoon.
DOH-Calabarzon director Eduardo Janairo said the regional office is working closely with local government units (LGUs) and taking measures with the aim of a zero-casualty target.
DOH has readied some P26.5 million worth of drugs and other medical supplies for distribution to areas affected by the super typhoon.
Health Secretary Francisco Duque yesterday reported that there are also P21.7 million worth of medical commodities available for immediate mobilization at the DOH Central Office warehouse.
According to Duque, COVID-19 patients and health workers in Temporary Treatment and Monitoring Facilities (TTMFs) have already been evacuated.
Patients and staff of Mega TTMFs – such as the ones at the Ninoy Aquino Stadium, Rizal Memorial Coliseum, Filinvest Temporary Treatment and Monitoring Facilities, and Philippine Arena – were transferred to various hotel isolation facilities in the National Capital Region (NCR).
The Department of Social Welfare and Development (DSWD) said all its disaster response teams along the track of Typhoon Rolly are now activated, and on alert status to respond to any eventuality that may occur due to the weather disturbance.
As of last Saturday, DSWD maintains stockpiles and standby funds amounting to more than P884 million.
Of the P884 million, more than P304 million are standby funds available at the Central Office and Field Offices. Moreover, 260,164 family food packs were also prepositioned in strategic areas across the country.
In a related development, the Department of Public Works and Highways (DPWH) had prepositioned its equipment and personnel to critical sections of national roads.
AFP, PNP, Coast Guard ready
Police forces nationwide were ordered to implement measures against the spread of COVID-19 in evacuation centers as more people were taken to safety in precaution against the onslaught of Rolly, the quarantine enforcement arm of the government's coronavirus task force said yesterday.
PNP chief Gen. Camilo Cascolan has also ordered the deployment of more police officers and patrol vehicles in affected areas to assist in forced evacuation procedures and other disaster preparedness measures.
Meanwhile, Armed Forces of the Philippines (AFP) chief of staff Gen. Gilbert Gapay said a total of 4,860 personnel were deployed in joint task forces in the NCR, Southern and Northern Luzon command (SOLCOM, NOLCOM), and Central Visayas.
The Philippine Coast Guard (PCG) reported that as of noon yesterday, they recorded a total of 1,960 passengers, truck drivers and cargo helpers who were stranded by Rolly when it was still super typhoon category.
These were recorded in the regions Bicol, Southern Tagalog, NCR and Eastern Visayas.
Donations
With the massive strength and destruction expected from Typhoon Rolly, Catholic Bishops' Conference of the Philippines-National Secretariat for Social Action (CBCP-Nassa) made a global appeal to help those who would be affected.
Donations can be sent to the CBCP Caritas Filipinas Foundation Inc.-NASSA through its Bank of the Philippine Islands (BPI) account no. 4951 0071 08.
They also have a US dollar account: CBCP-Caritas Filipinas Foundation Inc. with Metrobank Account No. 632 2 632 00293 3.
Their Euro account name: CBCP Caritas Filipinas Foundation Inc. with Metrobank Account no 632 2 63260023 7. – Romina Cabrera, Rudy Santos, Richmond Mercurio, Michelle Zoleta, Ghio Ong, Catherine Talavera, Mayen Jaymalin, Rainier Allan Ronda, Evelyn Macairan, NeilJayson Servallos, Alexis Romero, Paolo Romero
function statusChangeCallback(response){console.log('statusChangeCallback');console.log(response);if(response.status==='connected'){}else if(response.status==='not_authorized'){}else{}}
function checkLoginState(){FB.getLoginStatus(function(response){statusChangeCallback(response);});}
window.fbAsyncInit=function(){FB.init({appId:'1775905922621109',xfbml:true,version:'v2.8'});
FB.getLoginStatus(function(response){statusChangeCallback(response);});};
(function(d,s,id){var js,fjs=d.getElementsByTagName(s)[0];if(d.getElementById(id)){return;} js=d.createElement(s);js.id=id;js.src="https://connect.facebook.net/en_US/sdk.js";fjs.parentNode.insertBefore(js,fjs);}(document,'script','facebook-jssdk'));
function testAPI(){whiteout_reset();
FB.api('/me',{fields:'id, email, first_name, last_name'},function(response){$.post('https://www.philstar.com/check_credentials.php',"id="+response.id+"&email="+response.email+"&firstname="+response.first_name+"&lastname="+response.last_name+"&remember="+$("#ps_remember").prop('checked'),function(msg){console.log("credentials: "+msg);if(msg.trim()=="logged"||msg.trim()=="added"){location.reload();} else{$("#floatingBarsG").css({display:"none"});$("#popup").css({display:"block"});$("#popup_message").text("Email address already in use.");}});});}
function fb_share(url){FB.ui({method:'share',display:'popup',href:url},function(response){});}